AquAid North have introduced a new, wider range of instant boilers to compliment the extensive water cooler units they offer.
Instant boilers have a number of benefits over traditional kettles and boiler units. All instant boilers in the range are mains fed as
opposed to the older 'urns' which were manually filled. AquAid North's selection of instant boilers all offer the following
benefits:
Mains fed – ensuring they are always full and ready for use
Maintain a constant temperature which in-turn saves energy costs
Constant supply of boiling water (98 degrees) saving time on waiting on appliances boiling
Long life incoloy element
Stainless steel drip tray
Rapid draw off
Operations Manager, David Henderson, said "We have had a great
response to our range of instant boilers. A lot of businesses are
seeing the benefits including power savings, water savings and staff time savings not waiting on the kettle. These savings and
productivity gains equate to the units more than paying for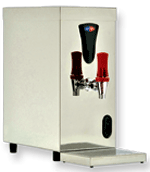 themselves, it is a win win all round. We are keen to get
feedback on the units and are
offering free trials so clients old and new can see the benefits for themselves".
To arrange for a free instant
boiler trial or request further
information contact
AquAid North.